German Association for Synthetic Biology (GASB)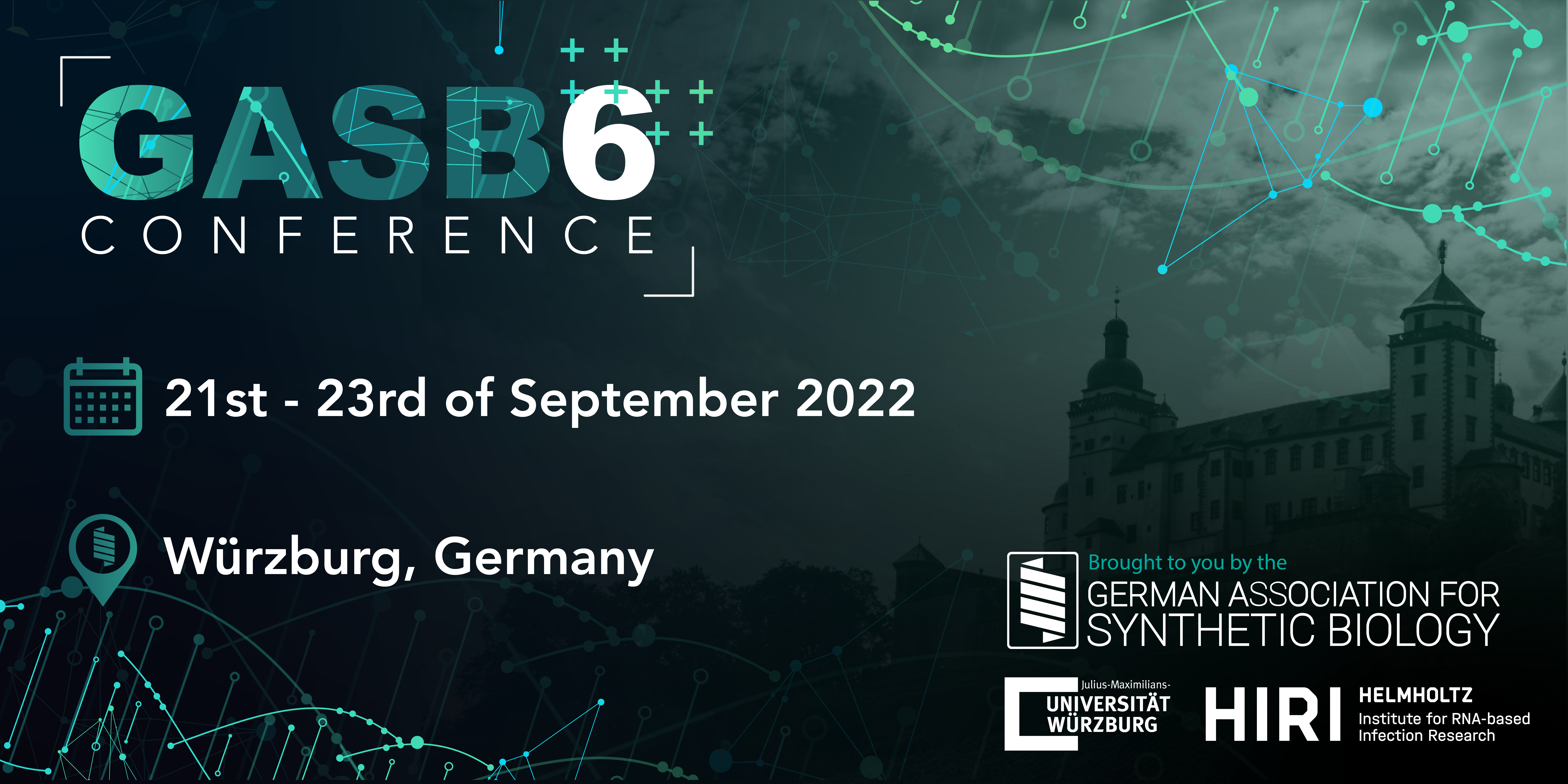 Thursday, September 21-23, 2022
08:00 – 17:30
Topics:
Arren Bar-Even Visionary Lecture

Xenobiology and Tools

Minimal Cell
Metabolic Engineering
Newcomer
Yeast Synthetic Biology
Tools & Optogenetics
Plant Synthetic Biology
Microbial SynBio
Genome & Eukaryotic
RNA Synthetic Biology
Breakout Sessions:
Science Journalism

National SynBio Associations/Organisations
Keynote speakers:
Tobias Erb (Max Planck Institute Marburg)
Sven Panke (ETH Zürich)
Matias Zurbriggen (HHU Düsseldorf)
Vitor Pinheiro (KU Leuven)
Christoph Wittmann (Saarland University)
Seraphine Wegner (University of Münster)
Sonja Billerbeck (University of Groningen)
Claudia Höbartner (University of Würzburg)
Markus Jeschek (University of Regensburg)
Dario Leister (LMU Munich)
Pascale Daran-Lapujade (TU Delft)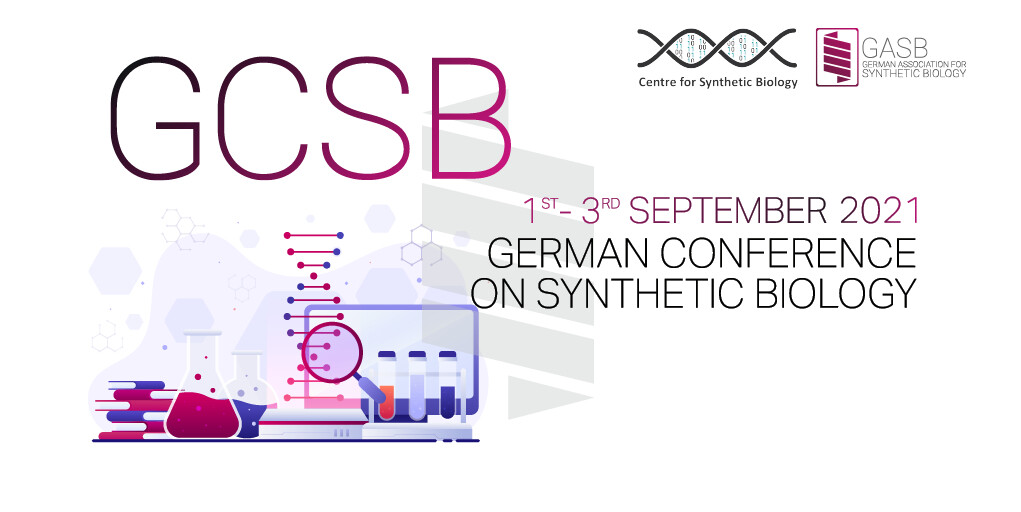 Thursday, September 1-3, 2021
08:00 – 17:30
Due to the still ongoing pandemic, this year's conference will have to take place digitally again. However, we made the event FREE TO REGISTER for everyone  and as always, we have a great ensemble of speakers prepared for you. 
Our sessions this year include, Metabolic engineering, Cell Free SynBio, Materials and Commodities, Protein Engineering, Plant & Photosynthetic SynBio, SynBio Tools, Networks and Circuits, Software, Computation, and Automation in SynBio, RNA SynBio, Diagnostics and Medical SynBio, as well as two Breakout Sessions discussing "SynBio in Space" and "Biosecurity".
All sessions are followed by a "Meet the Speaker" Q&A on a virtual gathering platform to give you the chance to dig deeper into specific topics and discuss the latest and greatest scientific discoveries. The platform also provides digital break rooms to hang out and meet new people as interested in Synthetic Biology as you. 
Topics:
Metabolic Engineering
Cell Free SynBio
RNA SynBio 
Networks and Circuits
Software, Computation and Medical SynBio
Protein Engineering
Materials and Commodities
Plant & Photosynthetic SynBio
SynBio Tools
Breakout Sessions:
SynBio in Space

Biosafety & Biosecurity
Keynote speakers:
Mathias Steiger (TU Vienna)

Kerstin Göpfrich (Max Planck Institute Heidelberg)
Maria Derosa (Charleton University)
Thomas Gorochowski (University of Bristol)
Rennos Fragkoudis (University of Edinburgh)
Dirk Grimm (Heidelberg University)
Bruno Correia (

Swiss Federal Institute of Technology Lausanne

)
Tom de Greef (Eindhoven University of Technology)
Alistair McCormick (University of Edinburgh)
Julius Lucks (Northwestern University)

Thursday, September 24-25, 2020
08:00 – 17:30
This year again, the German Association for Synthetic Biology – GASB e.V. invited to the German Conference on Synthetic Biology – GCSB, for which Prof. Barbara Di Ventura acted as conference chair. Due to the ongoing COVID pandemic, the event was held virtually instead of in Freiburg im Breisgau and became an international success with almost 600 registered participants. Since the GCSB tickets in the past only covered the conference costs (location, catering, travel expenses), this year the participants were able to participate free of charge due to the lack of event costs, as vice head of the GASB steering committee Hendrik Cooper explained. 
The conference was overshadowed by the unexpected passing of GASB chairman Dr. Arren Bar-Even (MPI for Molecular Plant Physiology), who was commemorated with a minute of silence. Additionally, GASB dedicated this year's GCSB conference to him. As Dr. Nicolas Krink, head of the GASB steering committee, stated, the synthetic biology scientific community is not only losing a brilliant and visionary mind, but also an actor who, through his work at GASB, played an active role in the development of synthetic biology. His death will leave a void in many areas, as well as in his companions.
Topics:
 Synthetic Systems Biology
Plant Synthetic Biology
Mammalian Synthetic Biology
Metabolic Engineering
Tools & Genome Editing
SynBio Based Compound Production
Minimal Synthetic Biology
Protein Engineering
Computational Synthetic Biology
Breakout Sessions:
Networking on YoTribe & Meet the Speaker



SynBio Quiz
Keynote speakers:
 Victor de Lorenzo (

Centro Nacional de Biotecnología | CSIC)

Nicola Patron (TU Darmstadt)
Yaakov Benenson (ETH Zürich)
Verena Siewers (Chalmers University)
Chase Beisel (Helmholtz Centre for Infection Research)

Eriko Takano (University of Manchester)

Katharina Landfester (Max Planck Institute for Polymer Research)
Andreas Möglich (University of Bayreuth)
Heike Siebert (FU Berlin)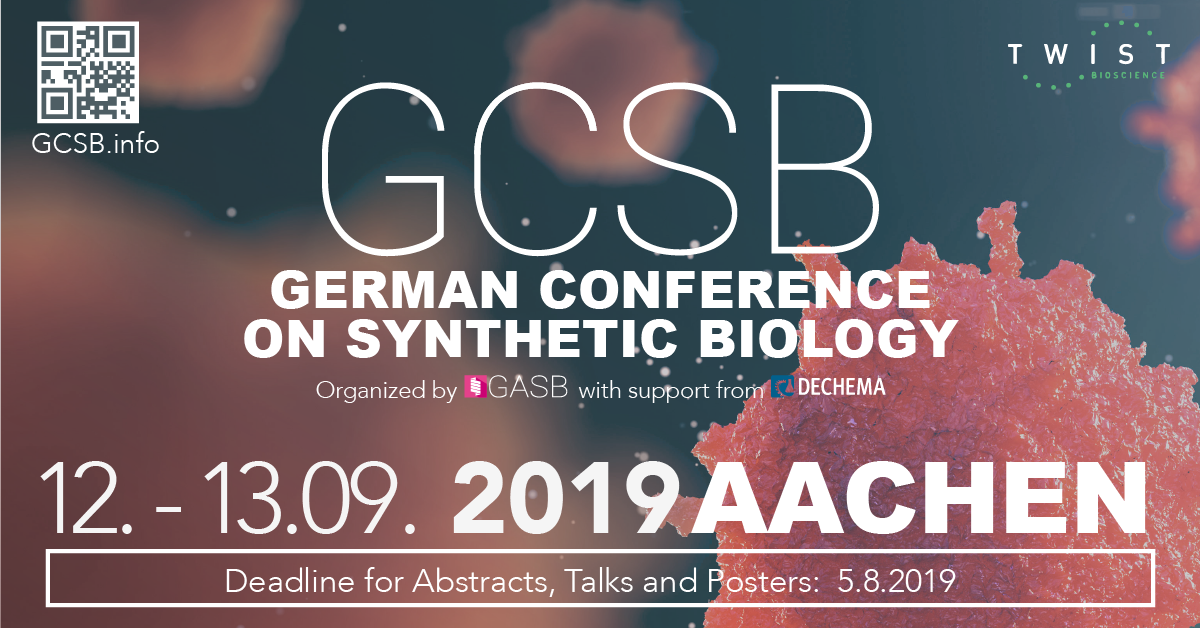 GCSB 2019 –
German Conference on Synthetic Biology – The 3th GASB
Thursday, September 12 – 13, 2019
08:00 – 18:00
On the 12th and 13th of September 2019, the German Association for Synthetic Biology – GASB e.V. hosted the GCSB – the German Conference on Synthetic Biology at the RWTH Aachen. GASB's annual conference is one of the main networking platforms for synthetic biologists from Germany and Europe. This year, the GASB event organization team was supported by DECHEMA e.V. (the association for technical chemistry and biotechnology).
The presented scientific topics ranged from synthetic biology in plant and mammalian cells over to the minimal cell and cell-free approaches to metabolic engineering, protein engineering, and synthetic biology tools. Moreover, researchers from xenobiology and computational biology joined the conference which was rounded off by a panel discussion about the impact and opportunities of synthetic biology in industry and a breakout session on the legal and regulatory requirements for synthetic biology. Besides current research topics and results of basic and applied sciences, the latest technology and tool developments were presented by representatives of industry and companies.
Topics:
 Protein Engineering
Xenobiology
Metabolic Engineering
Plant Synthetic Biology
Minimal Cell and Cell Free SynBio
Systems Biology / Computational Biology / Genetic Networks
Mammalian and Medical Biology
Breakout Sessions:
SynBio in Industry

Victoria Steffen (LENIOBIO)
Philip Kuhn (GENEART)
Andreas Meyer (FGEN GmbH)

Law and Patents

Karl-Heinz Maurer (AB Enzymes)
Keynote speakers:
 Wilfried Weber (University of Freiburg)
Ulrich Schwaneberg (RWTH Aachen)
Jörg Stülke (University of Göttingen)
Tobias Erb (Max Planck Institute of Marburg)
Mustafa Khammash (ETH Zürich)
Andreas Weber (University of Düsseldorf)
Victor Pinheiro (KU Leuven)
Cornelia Palivan (University of Basel)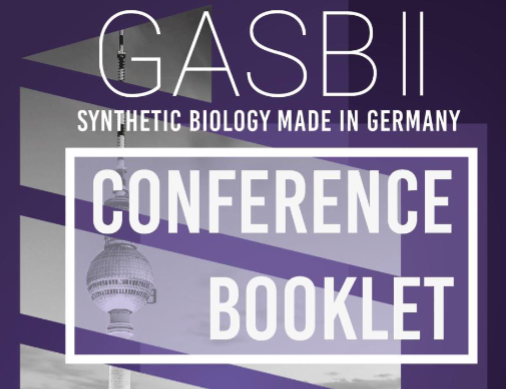 Thursday, September 27 – 28, 2018
The GASB II Conference will take place in Berlin this year. After a successful GASB I conference with more than 100 participants, 26 scientific talks, a panel discussion and a poster session, GASB II will be continued in a similar fashion. 
Topics:
 

Plant Synthetic Biology

Computational Synthetic Biology

Synthetic Microbial Metabolism

Synthetic Microbial Networks

Mammalian & Eukaryotic Synthetic Biology

Minimal Cell

Enzyme and Protein Engineering
Breakout Sessions:
acatech Future Talks

acatech Panel Discussion
Keynote speakers:
 Heribert Warzecha (TU Darmstadt)
Christoph Flamm (University of Vienna)
Lars Blank (RWTH Aachen)
Anke Becker (Synmikro Marburg)
Barbara di Ventura (University of Freiburg)
Seraphine Wegner (Max Planck Institute Mainz)
Ned Budisa (TU Berlin)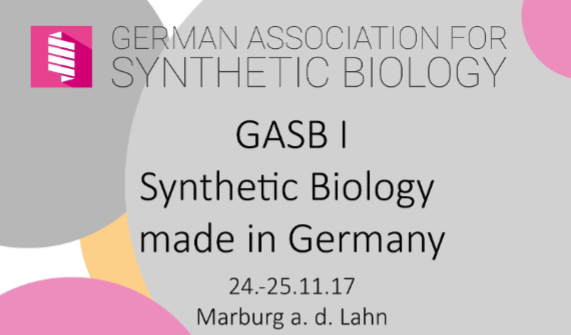 Friday, November 24 – 25, 2017
Topics:
Minimal Cells/ in vitro Synthetic Biology

Tools in Synthetic Biology
Metabolic Engineering
Computational Synthetic Biology
Application
Keynote speakers:
 Reinhard Lipowsky (Max Planck Institute Potsdam-Golm)
Beatrix Süß (TU Darmstadt)
Arren Bar-Even (Max Planck Institute Potsdam-Golm)
Steffen Klamt (Max Planck Institute Magdeburg)
Michael Bott (Jülich GmbH)